So today I want to share one of the projects I've been playing around with recently. We go through a fair number of plastic drinks bottles in our household and there are several crafty ways to recycle them rather than dumping them in the rubbish bin. Over the years I've heard of and read about people making gadgets to measure rainfall, bird feeders, handy little watering cans and even small gift boxes. The ideas are only limited by your own imagination.
My partner tends to retain their original purpose and refills them with water: normal tap water for giving car windows a quick wash, chilled water for an easy drink while out and about and distilled water for filling batteries. On the other hand, I prefer to make something completely different that's both decorative and practical.
On this occasion I made myself two new pen holders for my desk. A meagre attempt to bring some order to the usual mayhem! They're both made from Coca Cola bottles, but each one had a slightly different shape to add a bit of interest. I do like the "hour glass" shape of the smaller 1.5 litre bottles. This is also a great little project to do with your kids when you have a spare hour or two as long as an adult is in charge of the scissors. All of the paper and ribbons used here were being recycled along with the bottles. The paper had been used in other long since finished journal projects and the ribbons came from chocolate box wrapping.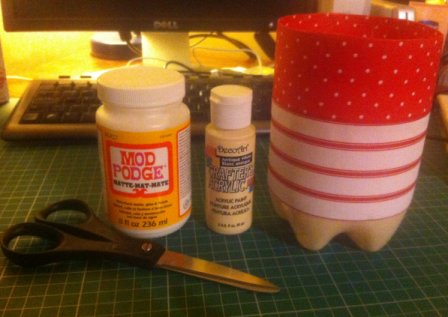 Materials you will need are:
A selection of papers
Ribbon if required
Mod Podge glue
Sharp scissors
Shape punches if required
Small piece of wadding/padding
Acrylic paint to match your chosen papers
Paint brush / glue brush
Any other decorative items you want to use
First step was of course to wash the sticky residue out of the bottles with warm (not hot) water and a little detergent. You don't want to warp the plastic so do be careful of the temperature. The next step was to cut them to size. This is completely up to you and your own taste. I tend to cut along the natural lines in the plastic where possible as it's a little easier and looks nicer. On the taller 2 litre bottles that's not possible as they're smooth, so simply pick the height you prefer. I cut mine a little higher to hold some longer items such as rulers, pencils, bone folders etc.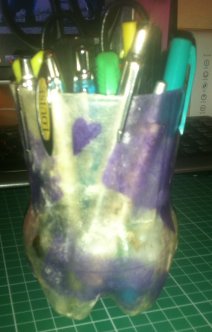 Next it can be a good idea to lightly sand along the cut edge as plastic can be rather sharp and gives quite painful cuts to unwary fingers. The final step is to decorate any way you see fit.
On my smaller one, I decoupaged a selection of white and lilac handmade papers over the outside. Due to the nature of the paper, it becomes almost transparent when covered in glue and creates a frosted glass effect. As a finishing touch I punched out some purple and pink hearts and added them on top.
For the taller holder, I chose two contrasting designs in red and white from my scrap 12 x 12 paper box and glued them around the bottle one above the other. I painted the inside of the bottle (only round the bottom) with a cream coloured acrylic paint so I wouldn't see all the bottoms of my pencils.White would have worked better but I was deliberately using things I already had in the house rather than buying new stuff.
As you can see from the photo, the papers didn't quite meet up so to cover the gap, I added a thin red silk ribbon and then attached a red organza bow on top of it.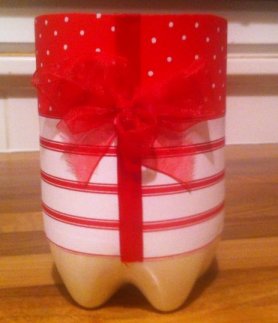 The final step was to cut 2 strips of wadding (I use this to pad cross stitch designs that are going in cards usually) about 1 – 1.5 inches wide and place them over each other like a + sign before putting them into the bottom of the holder. This helps to reduce too much noisy rattling of pens and pencils against the plastic, particularly as my cats love to investigate anything that looks chewable!
You could alternatively use fabric to cover your bottle or simply paint the whole thing with your own design. Kids might enjoy stamping designs onto a blank piece of paper and then gluing the finished product round their bottle. It's worth bearing in mind that the 2 litre bottles are tall enough to hold quite an assortment of things. With a little weight added, you could fill one with kitchen utensils or artificial flowers. Glass pebbles in the bottom in different colours can be useful for just such a purpose as well as adding another element of decoration.
If you make some pen holders of your own, do post and share a link to your work. Or if you have an alternative use for plastic bottles let us know about it.