One of my favourite activities while I work is following craft and fibre related podcasts/vlogs. It leaves my hands free to do what they need to and I can listen or watch as it suits me. They're great company, highly informative and usually a deal of fun. There are various places around the interwebz where you can find them, including podbean, iTunes and YouTube.
I won't get too picky with the differences between podcasts and vlogs. Suffice it to say, a podcast is technically a digital audio file rather than a video. However, the terms are often used interchangeably these days and we all still seem to know what we're talking about!
A Google search will return a mass of results so in order to get you started, these are the Scottish crafting podcasts I'm aware of that are specifically hosted by Scots. I'll add others if I discover them or if people pass along information.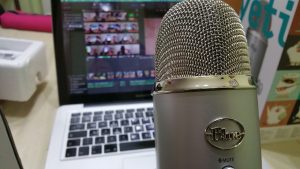 Video
(All available on YouTube)
Stitch with Sprite – Helen's knitting podcast comes to you from Johnstone. She's our longest standing active video podcaster.
Eva Christie Hand Knitting – Eva is a hand dyer and knitting designer based in Perth as well as the driving force behind the Perth Festival of Yarn. Apart from knitting, she chats to us about her lastest reads, TV watching and daily life. She occasionally makes short "Eva Unravelled" vlogs out and about around Perthshire too.
Beardychiel's Knitting Banter – John is a knitter and knitting designer up in Thurso. When he's not knitting, he turns his hand to crochet, spinning, natural hand dyeing and cooking.
ThisBoyPodcasts – David's knitting and hand dyeing podcast is on a hiatus.
LittleBee Kirsty – Knitting podcast based in Glasgow. Kirsty also covers crochet, sewing and hand dyeing.
Charlotte Knits – Char is another Glasgow based knitter. As a vegan, she chats to us about how her ethical lifestyle choice impacts her yarn choices.
Leila Spencer knits socks – Leila's knitting podcast is on a hiatus.
KellyMacd & Co – Kelly is an Aviemore based knitting and planning podcaster. She's the maker of the Tweedy Dori, a Harris Tweed Travelers' Notebook and chats about various things including colouring in for relaxation.
Fluph – Leona is the owner of the local yarn shop of the same name in Dundee. Besides being a knitter, she makes her own range of hand dyed yarns under the Rusty Ferret label and does occasional vlogs with news and updates for the store.
Geeky Girls Knit – An American Mother and daughter team, C.C. and Dami are Americans who now live in Edinburgh. C.C. is also a knitting designer.
Lovebug's Yarns – Diana is Portuguese but now lives in Tillicoultry in Central Scotland with her husband and 2 sons. She's a hand dyer and knitter.
Sophie Isobella – A young lifestyle vlogger from the west coast who also gets crafty in terms of planning/journalling.
Audio
Knit British – Louise Scollay is possibly one of the best known podcasters within the UK fibre community. Along with sponsors Blacker Yarns, Louise hosted the Podcasters Lounge at Edinburgh Yarn Festival in 2016 and 2017. She also has a long history of promoting, using and exploring British Wool.
Caithness Craft Collective – Louise Hunt is based in Thurso and hosts another long running podcast. It's released fortnightly and is all about craft, whisky and the craic (news). She also makes and sells some lovely tartan project bags via her Etsy store.