"Everyone is born creative; everyone is given a box of crayons in kindergarten. Then when you hit puberty they take the crayons away and replace them with dry, uninspiring books on algebra, history, etc. Being suddenly hit years later with the 'creative bug' is just a wee voice telling you, 'I'd like my crayons back, please."
― Hugh MacLeod
Thistle Dubh Ewe was founded in 2013 and is located in the heart of the Lothians, not far from Edinburgh.
Its creation grew from a firm belief in keeping traditional skills alive, a delight in working with natural materials and a preference for the uniquely personal touch that handmade items provide.
Meet The Maker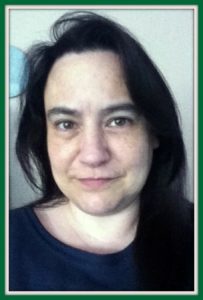 Hi, folks. I'm Lou, the driving force behind TDE. I'm a 40 something Scot, mother of 3, grandma and slave to two cats. Born and bred in north east Fife, I'm currently residing in Livingston following a somewhat roundabout journey through Dundee, Shropshire, Perth and Glasgow.
Let me begin by owning up to my love of sticking needles into stuff!
When I say "stuff" I do, of course, mean fabric and fibre. And when I say needles, I also mean hooks. But you all knew that, right? I channel this strange passion into creating ethical, Scottish themed accessories for you and your home. All in the hope that the finished items add an extra dollop of delight into your life and your own crafting journey.
My passion for crafting started at a very young age, courtesy of two of the most talented women I've ever known, my mum and my Grandma. I blame my creative bent entirely on these two very skilled makers who taught me so well. After all these years, the upshot of my forays into different creative pursuits is the discovery that I particularly enjoy working with wool and so my focus is very much on the fibre crafts such as felting, knitting, crochet and, more recently, spinning. I'm enabled in these endeavours by the fact that we're blessed in this country with a rich variety of native sheep breeds. This aspect of my crafting fascination I attribute to my sheep herding ancestors on the Isle of Skye. It's definitely in the blood.
Overriding all of this is a wish to preserve the ever changing, ever colourful kaleidoscope that is my beloved Scotland. Yes, I'm talking about recycling materials, buying local and that kind of stuff. It may sound stuffy but it's a core value in my business and it's a detail I find my "tribe" appreciate. In return for such care, Scotland provides me with all the inspiration any maker could ever require.  It's quite a good deal.
When I'm not busy creating, I enjoy using my knowledge of computing, social media and blogging to share my interest in crafts with a wider audience. I find crafters and artisans to be extraordinarily friendly and welcoming people, always keen to share their latest projects alongside their knowledge and expertise, and to my delight this has led to many wonderful friendships around the globe.