News and Events
TDE is now registered on Bloglovin'. If you'd like to use this method to keep up-to-date with our goings on then click the link above. 🙂 It's a convenient and easy place to follow all the blogs you enjoy reading. You can also save links to revisit at a later time.
Don't forget that you can sign up for my newsletter right here on the website or follow my various social media accounts. TDE has a presence on Instagram, Pinterest, Facebook and Twitter. You can connect to me through the social icons on the right hand menu of any page.
Craft Fairs for 2016
All of TDE's craft fairs via the Livingston Crafts Association are now over for the current year. I had a lovely time, both here in Livingston at St Margaret's Academy and in Linlithgow at the Masonic Halls. Catching up with previous customers and meeting new faces is so much fun. It's always deeply appreciated that people are willing to brave our infamous weather and come to check out all the handmade crafts on display. A huge thank you for your business and for the wonderful feedback.
Taking part in craft fairs is definitely an ongoing learning experience and 2016 saw me make several improvements to my craft tables. I'm delighted with my new banner and also enjoyed playing with different layouts, introducing more levels to best display my products. The positive comments I received from visitors made the effort very worthwhile. I'm looking forward to 2017's fairs.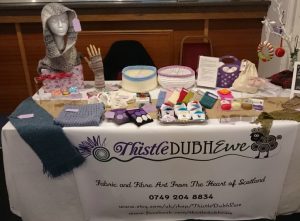 Christmas Posting and Deliveries
The last UK posting dates for 2016 are fast approaching. Second Class mail will be going out by Tuesday 20th and First Class mail will be dispatched by Wednesday 21st. I'm happy to post after these dates if requested but be aware that there's no guarantee they'll be received in time for Christmas. Last posting dates for non UK deliveries can be found on my Facebook page HERE – just click the link.